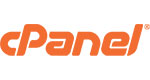 We have upgraded all our shared hosting cPanel servers to version 54.
This version introduced a lot of improvements and many useful and exciting features.
Change log: 54 Change Log
New features introduced in cPanel 54: What's Next for cPanel & WHM?
Unfortunately, cPanel has announced that once v58 reaches 'End of Life' status, X3 will no longer be maintained by cPanel for all versions v58 and newer.
As we do not have the ETA, we would encourage customers to start using the new Paper Latern theme.